Few people underestimate the benefits of duck meat, but the fact is duck meat is a high source of protein used by most of the people in many countries. Few people even cook it in their kitchen on special occasions.
Many people thinks it is highly expensive and they doesn't know how to prepare it, but its cost is same as chicken. Also, you can prepare a range of duck dishes in your kitchen with very few ingredients.
For flavorful duck recipe, you must consider visiting Lac Brome Lake. They provide variety of duck meat products from whole duck to duck confit, at affordable price.
Cooking duck breasts
Season duck breasts with pepper and salt. Score skin and cook it with skin-side downward until it turns brown and crispy. This is a very easy process, if you want to make it in oven preheat oven at 200C/400F and place duck breasts with skin-side downwards.
Whether it is sour or sweet, duck meat pairs well with almost all the food items including orange sauce, fresh fruits, pepper, roasted vegetables and many others.
Here are few tips that help you in making delicious side dishes, which pair perfectly with duck meat.
Cucumber salad
Add scored cucumber slices, onion, soy sauce, vinegar oil, garlic, sugar and pepper flakes. Toss well and chill it for 4-24 hours and serve along with duck meat.
Balsamic green beans
Pour little duck fat in pan, add chicken stock or wine and let it cook until wine reduces by half. Now, add green beans and balsamic vinegar and cook 3 minutes. Serve green beans with duck slices.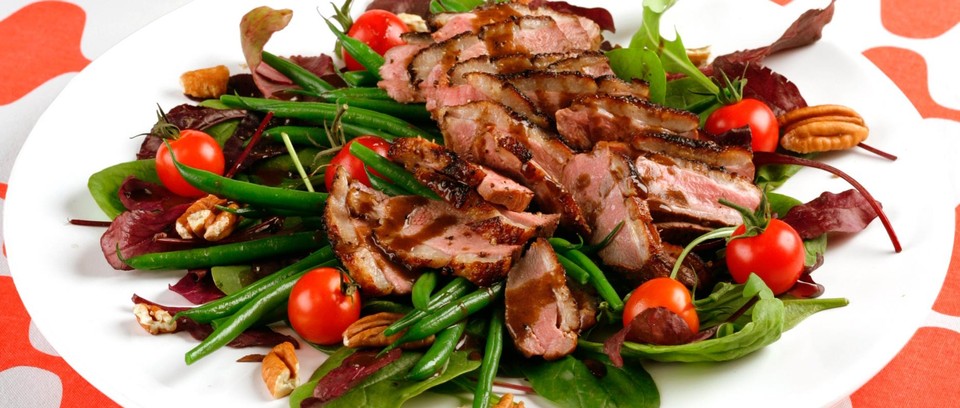 Roasted potatoes
Boil potatoes with vinegar and salt. Season with pepper and salt and toss it. Preheat oven at 500°F. Place potatoes on a baking sheet and bake 20 minutes. Serve them with duck breasts and enjoy.
Raspberry and orange juicy
Pour little duck fat to a pan. Then add raspberries and cook on medium flame, sprinkle salt and drizzle honey. Mash raspberries and add orange juice to it. Once it starts bubbling, blend it smoothly and sieve it to remove seeds. Serve the yummy sauce with roasted, sliced duck breasts.
Additionally, you can try other side dishes such as cranberry sauce, coconut rice, sweet potatoes and a lot more.
Duck meat is not only delicious but also offers various health benefits too. To enjoy the taste of duck meat, choose the best store, order duck meat and try mouth-watering recipes.
Are you looking for information on halal food? You've come to the right place! Halalmak.com is your guide to everything halal, from restaurants and grocery stores to recipes and everything!